"Marquees are cold in the winter?" is something we often hear when talking about marquees being used outside of the summer months. It simply isn't true! Our marquees work year-round in all locations and all weathers, whether it's the height of summer or the freezing depths of winter. So, read on to find out more about our clever heating and insulation options and how they'll keep you toasty throughout the year…
Energy-saving insulation
We pride ourselves on supplying the perfect marquee to suit your needs and one that is comfortable season after season. In the cooler months this often means starting off with the right insulation, which is the simplest and most environmentally friendly way to keep the chill at bay.
For marquee hire throughout the autumn and winter we have a range of high quality, insulated, hard-sided marquees. On top of this we also supply specialised insulated linings, which regulate temperatures and reduce Co2 emissions. These lightweight, easy-to-install layers retain the heat in winter and the cool air in summer. As an added extra, we can even include a double-skinned, thermo insulated roof, for maximum effect. Alternatively, in the warmer months, our marquees can be equipped with full air conditioning. So, as the mercury rises, temperatures inside stay comfortable and cool.
Turn up the heat
In the midst of winter you may also need additional heating solutions. One of the most common options is indirect, thermostatically controlled heating that ducts warm air into a marquee (see the image at the top of this article). This will heat your marquee without sacrificing any internal space. For sites that only have electricity available, we can install hot water boiler systems instead.
For example, at Kingsdale Foundation School, a secondary school in South East London, we were asked to provide more teaching space during the pandemic. Due to health and safety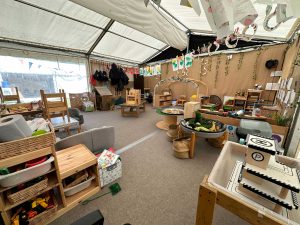 requirements onsite, electric heating rather than oil-fired heating was needed. We therefore worked closely with our heating supplier to fit a hot water system that worked within the confines of the electricity supply available. We installed a similar system for a primary school recently too (see pic)
Alfresco space
Many of our recent bookings have been for the hospitality industry. Bars, restaurants and similar entertainment businesses often require marquees with open sides leading out onto a terrace or courtyard. For this type of location we supply direct gas/patio heaters to keep diners or drinkers warm, as they enjoy their evening.
Room to dance
During the pandemic (remember that!) the famous Rambert School of Ballet and Contemporary Dance approached us to create an additional dance studio, so the school could reopen safely during the pandemic. Our solution was a large marquee with hard sides, solid doors and all-important hard flooring that was suitable for dancing. The space was used through the winter term, so it was essential that it was well insulated too, and equipped with the right heating solutions to keep temperatures pleasant.
Both before and after that "fun" time, we've provided dance floors a plenty for events taking place throughout the year.

Find your marquee
So, whatever time of year you need your marquee, we guarantee it will be warm, comfortable and fit for purpose. Take a look at our clever marquee calculator for an initial idea of costs. Then give us a call on 01932 620060, so we can talk you through our heating and insulation options and discuss your specific needs.